UCreate a short film
Secondary KLAs:
Creative Arts, English, Human Society and its Environment, Personal Development, Health and Physical Education, Science, Technology
Educational levels:
Year 7, Year 8, Year 9, Year 10
412 Views | 195 Downloads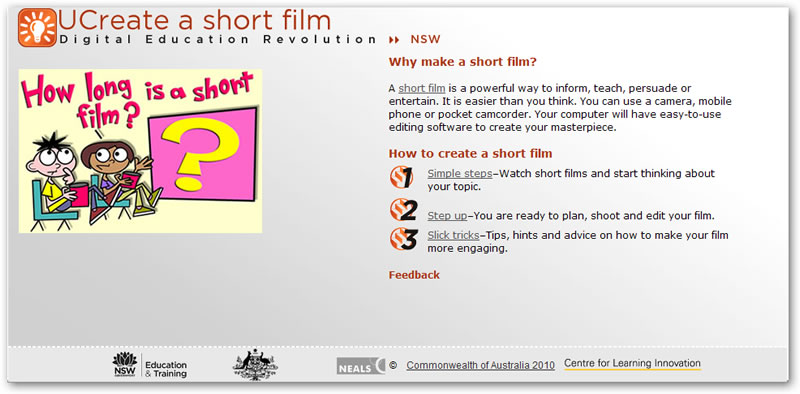 This resource focuses on creating a short film. Learn about planning, shooting and editing short films for classroom presentations, competitions and online. It has practical hints, advice and tips about film making.
© State of New South Wales, Department of Education.
NSW syllabus outcomes
(EN4-2A) effectively uses a widening range of processes, skills, strategies and knowledge for responding to and composing texts in different media and technologies
(ENLS-5A) recognises and uses visual texts, media and multimedia for a variety of purposes, audiences and contexts
(ENLS-6A) reads and responds to a range of written texts in familiar contexts
(ENLS-7A) uses strategies to obtain meaning from and interpret a range of texts
(ENLS-9A) composes texts for a variety of purposes and audiences
(EN5-2A) effectively uses and critically assesses a wide range of processes, skills, strategies and knowledge for responding to and composing a wide range of texts in different media and technologies
Australian curriculum content descriptions
(ACELY1728) Use a range of software, including word processing programs, to confidently create, edit and publish written and multimodal texts
(ACELY1738) Use a range of software, including word processing programs, to create, edit and publish texts imaginatively
(ACELY1736) Create imaginative, informative and persuasive texts that raise issues, report events and advance opinions, using deliberate language and textual choices, and including digital elements as appropriate
(ACELY1746) Create imaginative, informative and persuasive texts that present a point of view and advance or illustrate arguments, including texts that integrate visual, print and/or audio features
(ACELY1748) Use a range of software, including word processing programs, flexibly and imaginatively to publish texts
(ACELY1756) Create sustained texts, including texts that combine specific digital or media content, for imaginative, informative, or persuasive purposes that reflect upon challenging and complex issues
(ACELY1776) Use a range of software, including word processing programs, confidently, flexibly and imaginatively to create, edit and publish texts, considering the identified purpose and the characteristics of the user
More information
Resource type:

Interactive Resource

Audience:

learner, teacher

ScOT topics:

Film making, Film scripts, Multimodal texts

File type:

text/html

Language/s:

en-AU

Author:

State of NSW, Department of Education

Publisher:

State of NSW, Department of Education

Date created:

Friday, 17 December 2010
Resource ID: 00367634-e2a0-46d5-b0ad-981cc2e53adf