Numeracy wrap: Get the picture
Educational levels:
Year 3, Year 4
2057 Views | 1182 Downloads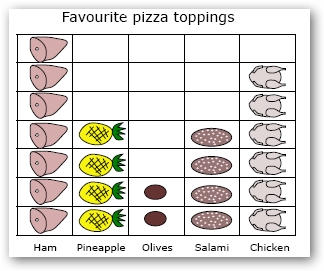 In this resource students will construct picture graphs using one-to-one correspondence and information in a table, represent data in more than one way, interpret information presented in picture graphs and identify problems in picture graphs. It includes SMART Notebooks, links to interactive activities and printable worksheets. The numeracy wrap relates to the Using Maths Tracks Stage 2B Unit 44 Data: Picture and Column Graphs.
© State of New South Wales, Department of Education and Training, 2013.
NSW syllabus outcomes
(MA1-17SP) gathers and organises data, displays data in lists, tables and picture graphs, and interprets the results
Australian curriculum content descriptions
(ACMSP050) Create displays of data using lists, table and picture graphs and interpret them
More information
Resource type:

Interactive Resource

ScOT topics:

Picture graphs

File type:

text/html

Language/s:

en-AU

Author:

Centre for Learning Innovation

Publisher:

State of NSW, Department of Education

Date created:

Thursday, 4 February 2010
Resource ID: 008eab40-8e33-4e8a-8e47-8f0384b74d84