Science Talk 2007: Martina Doblin
Educational levels:
Year 7, Year 8, Year 9, Year 10, Year 11, Year 12
78 Views | 33 Downloads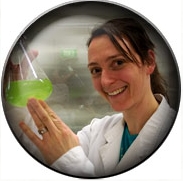 An interview and lab tour with Dr Martina Doblin, a phytoplankton ecologist at UTS. Martina talks to students and their teacher from Concord High School about her work studying microscopic organisms such as the toxic algae that make up harmful algal blooms.
© State of New South Wales, Department of Education and Training, 2013.
NSW syllabus outcomes
(SC4-14LW) relates the structure and function of living things to their classification, survival and reproduction
(SC5-14LW) analyses interactions between components and processes within biological systems
(SC5-15LW) explains how biological understanding has advanced through scientific discoveries, technological developments and the needs of society
(SC4-15LW) explains how new biological evidence changes people's understanding of the world
Australian curriculum content descriptions
(ACSSU111) There are differences within and between groups of organisms; classification helps organise this diversity
(ACSSI112) ACSSI112
(ACSHE120) Science and technology contribute to finding solutions to a range of contemporary issues; these solutions may impact on other areas of society and involve ethical considerations
(ACSHE121) Science understanding influences the development of practices in areas of human activity such as industry, agriculture and marine and terrestrial resource management
(ACSHE224) People use understanding and skills from across the disciplines of science in their occupations
(ACSSU149) Cells are the basic units of living things and have specialised structures and functions
(ACSHE226) Science knowledge can develop through collaboration and connecting ideas across the disciplines of science
(ACSHE135) Science and technology contribute to finding solutions to a range of contemporary issues; these solutions may impact on other areas of society and involve ethical considerations
(ACSHE136) Science understanding influences the development of practices in areas of human activity such as industry, agriculture and marine and terrestrial resource management
(ACSHE227) People use understanding and skills from across the disciplines of science in their occupations
(ACSSU176) Ecosystems consist of communities of interdependent organisms and abiotic components of the environment; matter and energy flow through these systems
(ACSHE158) Advances in scientific understanding often rely on developments in technology and technological advances are often linked to scientific discoveries
(ACSHE160) People can use scientific knowledge to evaluate whether they should accept claims, explanations or predictions
(ACSHE161) Advances in science and emerging sciences and technologies can significantly affect people's lives, including generating new career opportunities
More information
Resource type:

Interactive Resource

ScOT topics:

Scientists, Biologists, Plankton, Phytoplankton, Cyanobacteria

File type:

text/html

Language/s:

en-AU

Author:

Centre for Learning Innovation

Publisher:

State of NSW, Department of Education

Date created:

Monday, 20 October 2008
Resource ID: 259c28fa-355c-4fa7-8f9e-874285dd5ab1