Invictus Games Sydney 2018 – Stage 3 – Adaptive sports and games
Primary KLAs:
Human Society and its Environment, Mathematics, Personal Development, Health and Physical Education, Science and Technology
Educational levels:
Year 5, Year 6
1171 Views | 554 Downloads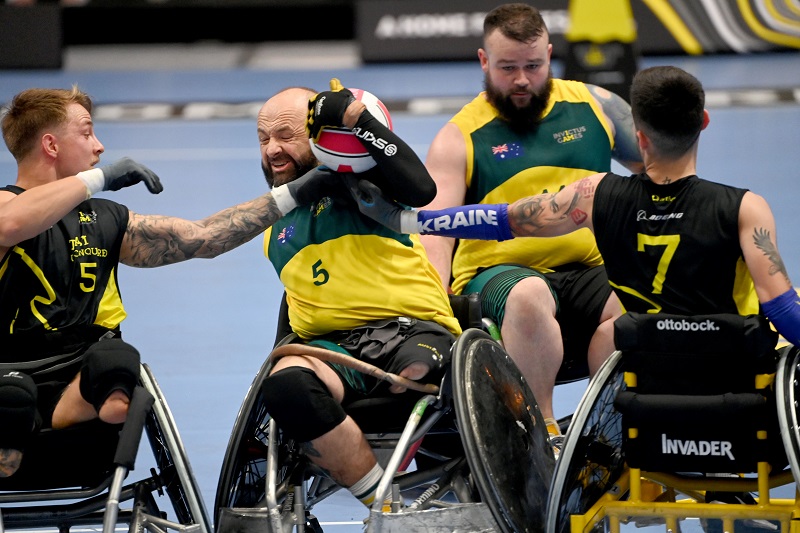 This image is courtesy of Defence Forces Australia.
Everyone can play. That's the message in this Stage 3 unit on adaptive and inclusive sports and games. Adaptive sports are not just for people with a disability, in fact adaptive sports make important changes that allow everyone to play in a fair and fun way. Learn about some of the adaptive sports played at the Invictus Games, play some adaptive sports and games with your class, and then create your own own adaptive sport.
© State of New South Wales, Department of Education.
NSW syllabus outcomes
(EN3-1A) communicates effectively for a variety of audiences and purposes using increasingly challenging topics, ideas, issues and language forms and features
(EN3-2A) composes, edits and presents well-structured and coherent texts
(EN3-6B) uses knowledge of sentence structure, grammar, punctuation and vocabulary to respond to and compose clear and cohesive texts in different media and technologies
Australian curriculum content descriptions
(ACELA1504) Understand how texts vary in purpose, structure and topic as well as the degree of formality
(ACELY1702) Navigate and read texts for specific purposes applying appropriate text processing strategies, for example predicting and confirming, monitoring meaning, skimming and scanning
(ACELY1704) Plan, draft and publish imaginative, informative and persuasive print and multimodal texts, choosing text structures, language features, images and sound appropriate to purpose and audience
(ACELY1710) Plan, rehearse and deliver presentations, selecting and sequencing appropriate content and multimodal elements for defined audiences and purposes, making appropriate choices for modality and emphasis
More information
Resource type:

Interactive Resource

Audience:

learner, teacher

ScOT topics:

Sports, Accessibility, Disability

Activities:

Analysis, Communication activity, Interactives, Practical activity, Project, Roleplay

Language/s:

en-AU

Author:

State of NSW, Department of Education

Publisher:

State of NSW, Department of Education

Date created:

Wednesday, 12 September 2018
Resource ID: 43fad6b2-136f-4c3d-ba89-fa0a351337d6