Sites2See: Nelson Rolihlahla Mandela
Secondary KLA:
Human Society and its Environment
Educational levels:
Year 9, Year 10, Year 11, Year 12
92 Views | 54 Downloads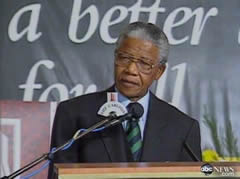 This resource provides links to multimedia and other resources which cover the life and work of Nelson Mandela. Covers issues of human rights, diversity, democracy, ethics and values, and links to HSC Online and other sources that cover apartheid and the African National Congress.
© State of New South Wales, Department of Education and Communities, 2013.
NSW syllabus outcomes
(HT5-1) explains and assesses the historical forces and factors that shaped the modern world and Australia
(HT5-2) sequences and explains the significant patterns of continuity and change in the development of the modern world and Australia
Australian curriculum content descriptions
(ACDSEH143) The continuing nature of efforts to secure civil rights and freedoms in Australia and throughout the world, such as the Declaration on the Rights of Indigenous Peoples (2007)
More information
Resource type:

Interactive Resource

ScOT topics:

Apartheid, History

File type:

text/html

Language/s:

en-AU

Author:

NSW Curriculum and Learning Innovation Centre

Publisher:

State of NSW, Department of Education

Date created:

Thursday, 17 May 2012
Resource ID: 45f3ae02-8f46-4f57-8896-f5aad9a27678