Invictus Games Sydney 2018 – HSIE – Stage 5
Secondary KLA:
Human Society and its Environment
Educational levels:
Year 9, Year 10
249 Views | 106 Downloads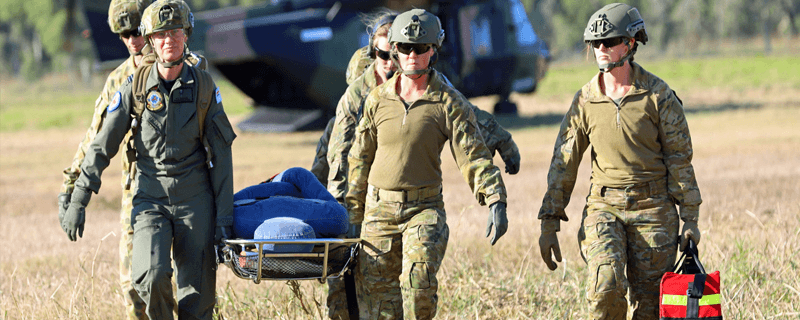 This module, The modern world and Australia – Australia's involvement in recent conflict, explores Australia's involvement in contemporary conflict and peacekeeping missions, the role of service personnel through time and stories of contemporary service personnel who are competing in the Invictus Games Sydney 2018. This resource is also downloadable as a SCORM file: the downloaded version will only work if you upload it to a webserver, such as Moodle or Canvas.
© State of New South Wales, Department of Education.
NSW syllabus outcomes
(HT5-2) sequences and explains the significant patterns of continuity and change in the development of the modern world and Australia
(HT5-5) identifies and evaluates the usefulness of sources in the historical inquiry process
(HT5-6) uses relevant evidence from sources to support historical narratives, explanations and analyses of the modern world and Australia
(HT5-7) explains different contexts, perspectives and interpretations of the modern world and Australia
(HT5-10) selects and uses appropriate oral, written, visual and digital forms to communicate effectively about the past for different audiences
Australian curriculum content descriptions
(ACOKFH023) the nature of the Cold War and Australia's involvement in Cold War and post-Cold War conflicts (Korea, Vietnam, The Gulf Wars, Afghanistan), including the rising influence of Asian nations since the end of the Cold War
(ACHHS182) Use chronological sequencing to demonstrate the relationship between events and developments in different periods and places
(ACHHS183) Use historical terms and concepts
(ACHHS186) Identify and locate relevant sources, using ICT and other methods
More information
Resource type:

Interactive Resource

Audience:

learner, teacher

ScOT topics:

Contemporary world, War, Peacekeeping, Armed forces, Sports, War veterans

Activities:

Analysis, Critical thinking activity, Research project

Language/s:

en-AU

Author:

State of NSW, Department of Education

Publisher:

State of NSW, Department of Education

Date created:

Friday, 31 August 2018
Resource ID: 49aafc1e-fb9c-426a-86f3-f857ee4fd0cb