Science Talk 2008
Primary KLA:
Science and Technology
Educational levels:
Year 5, Year 6, Year 7, Year 8, Year 9, Year 10, Year 11, Year 12
207 Views | 43 Downloads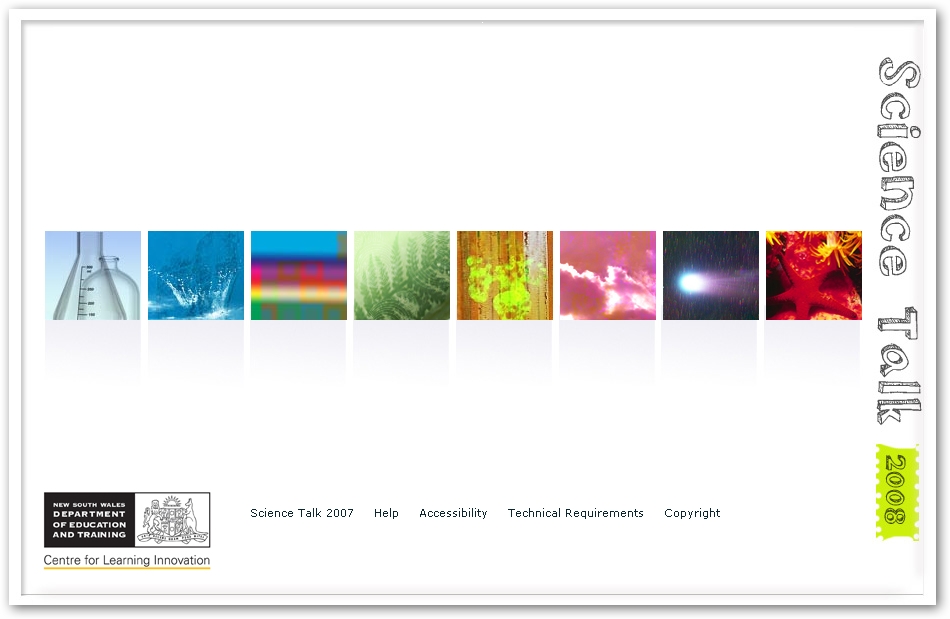 An online resource with interviews and master classes with many of Australia's prominent scientists. Interviews with eight scientists in areas of astronomy, marine biology, bio-chemistry related to medical research, chemistry related to materials science, astro-imaging, palaeontology, climate change science and psychology and scepticism. Interviews include personal responses about being a scientist and are each accompanied by links to related resources and teaching notes.
© State of New South Wales, Department of Education and Training, 2013.
NSW syllabus outcomes
(SC4-8WS) selects and uses appropriate strategies, understanding and skills to produce creative and plausible solutions to identified problems
(SC4-11PW) discusses how scientific understanding and technological developments have contributed to finding solutions to problems involving energy transfers and transformations
(SC4-13ES) explains how advances in scientific understanding of processes that occur within and on the Earth, influence the choices people make about resource use and management
(SC4-15LW) explains how new biological evidence changes people's understanding of the world
(SC4-17CW) explains how scientific understanding of, and discoveries about, the properties of elements, compounds and mixtures relate to their uses in everyday life
(SC5-8WS SC5-11PW) SC5-8WS SC5-11PW
(SC5-13ES) explains how scientific knowledge about global patterns of geological activity and interactions involving global systems can be used to inform decisions related to contemporary issues
(SC5-15LW) explains how biological understanding has advanced through scientific discoveries, technological developments and the needs of society
(SC5-17CW) discusses the importance of chemical reactions in the production of a range of substances, and the influence of society on the development of new materials
Australian curriculum content descriptions
(ACSHE223) Science knowledge can develop through collaboration and connecting ideas across the disciplines of science
(ACSHE120) Science and technology contribute to finding solutions to a range of contemporary issues; these solutions may impact on other areas of society and involve ethical considerations
(ACSHE121) Science understanding influences the development of practices in areas of human activity such as industry, agriculture and marine and terrestrial resource management
(ACSHE224) People use understanding and skills from across the disciplines of science in their occupations
(ACSHE226) Science knowledge can develop through collaboration and connecting ideas across the disciplines of science
(ACSHE135) Science and technology contribute to finding solutions to a range of contemporary issues; these solutions may impact on other areas of society and involve ethical considerations
(ACSHE136) Science understanding influences the development of practices in areas of human activity such as industry, agriculture and marine and terrestrial resource management
(ACSHE227) People use understanding and skills from across the disciplines of science in their occupations
(ACSHE158) Advances in scientific understanding often rely on developments in technology and technological advances are often linked to scientific discoveries
(ACSHE161) Advances in science and emerging sciences and technologies can significantly affect people's lives, including generating new career opportunities
(ACSHE228) The values and needs of contemporary society can influence the focus of scientific research
(ACSHE192) Advances in scientific understanding often rely on developments in technology and technological advances are often linked to scientific discoveries
(ACSHE195) Advances in science and emerging sciences and technologies can significantly affect people's lives, including generating new career opportunities
(ACSHE230) The values and needs of contemporary society can influence the focus of scientific research
More information
Resource type:

Interactive Resource

ScOT topics:

Fossils, Materials, Psychology, Photography, Global warming, Climate change, Scientists

File type:

text/html

Language/s:

en-AU

Author:

Centre for Learning Innovation

Publisher:

State of NSW, Department of Education

Date created:

Friday, 24 July 2009
Resource ID: 4a0dfe34-9550-4854-8913-f878ade2045b