Sites2See: Indigenous Veterans
Secondary KLA:
Human Society and its Environment
Educational levels:
Year 9, Year 10
1018 Views | 320 Downloads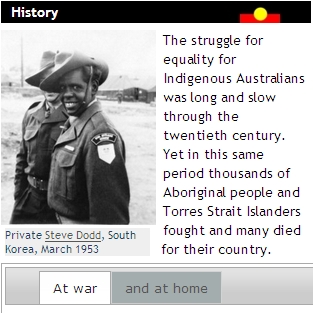 This resource is a page about the history of Aboriginal and Torres Strait Islander veterans of the Australian armed forces, with case studies, activities and discussion points. The resource is relevant to selected outcomes of at least two topics in Stage 5 History including Australia's commemoration of World War I.
© State of New South Wales, Department of Education and Training, 2013.
NSW syllabus outcomes
(HT5-3) explains and analyses the motives and actions of past individuals and groups in the historical contexts that shaped the modern world and Australia
(HT5-7) explains different contexts, perspectives and interpretations of the modern world and Australia
Australian curriculum content descriptions
(ACDSEH095) The places where Australians fought and the nature of warfare during World War I, including the Gallipoli campaign
(ACDSEH096) The impact of World War I, with a particular emphasis on Australia (such as the use of propaganda to influence the civilian population, the changing role of women, the conscription debate)
(ACDSEH097) The commemoration of World War I, including debates about the nature and significance of the Anzac legend
(ACDSEH108) The experiences of Australians during World War II (such as Prisoners of War (POWs), the Battle of Britain, Kokoda, the Fall of Singapore)
(ACDSEH109) The impact of World War II, with a particular emphasis on the Australian home front, including the changing roles of women and use of wartime government controls (conscription, manpower controls, rationing and censorship)
(ACDSEH143) The continuing nature of efforts to secure civil rights and freedoms in Australia and throughout the world, such as the Declaration on the Rights of Indigenous Peoples (2007)
More information
Resource type:

Interactive Resource

ScOT topics:

World War I, World War II, Historical sources, History

File type:

text/html

Language/s:

en-AU

Author:

Centre for Learning Innovation

Publisher:

State of NSW, Department of Education

Date created:

Thursday, 31 March 2011
Resource ID: 6321a55d-e846-4b96-9fdd-0c5bca8eec2d