Sites2See: Gallipoli
Secondary KLA:
Human Society and its Environment
Educational levels:
Year 7, Year 8, Year 9, Year 10, Year 11, Year 12
1235 Views | 314 Downloads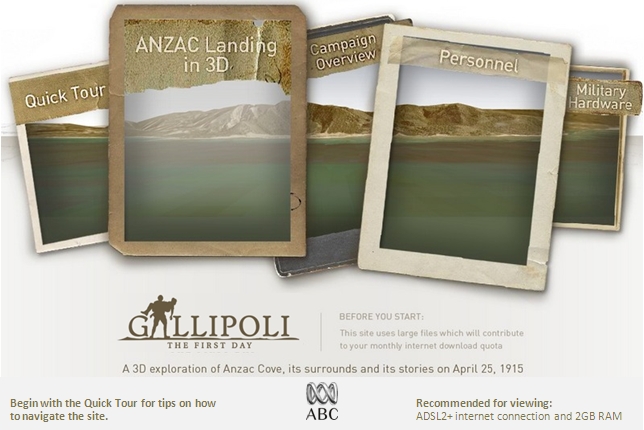 This resource features the ABC resource 'Gallipoli: The First Day' which uses diaries, photos and interview clips, 3D graphics and videos to bring a new perspective to the first hours of the campaign. Includes additional activities and resources for study.
© State of New South Wales, Department of Education and Training, 2013.
NSW syllabus outcomes
(HT5-1) explains and assesses the historical forces and factors that shaped the modern world and Australia
(HT5-6) uses relevant evidence from sources to support historical narratives, explanations and analyses of the modern world and Australia
(HT5-7) explains different contexts, perspectives and interpretations of the modern world and Australia
Australian curriculum content descriptions
(ACDSEH095) The places where Australians fought and the nature of warfare during World War I, including the Gallipoli campaign
(ACDSEH096) The impact of World War I, with a particular emphasis on Australia (such as the use of propaganda to influence the civilian population, the changing role of women, the conscription debate)
(ACDSEH097) The commemoration of World War I, including debates about the nature and significance of the Anzac legend
(ACDSEH108) The experiences of Australians during World War II (such as Prisoners of War (POWs), the Battle of Britain, Kokoda, the Fall of Singapore)
(ACDSEH109) The impact of World War II, with a particular emphasis on the Australian home front, including the changing roles of women and use of wartime government controls (conscription, manpower controls, rationing and censorship)
More information
Resource type:

Interactive Resource

ScOT topics:

Australian history, World War I

File type:

text/html

Language/s:

en-AU

Author:

Centre for Learning Innovation

Publisher:

State of NSW, Department of Education

Date created:

Wednesday, 16 February 2011
Resource ID: 983d7e49-4edf-4311-aae6-5eb362137c43