Laptop wrap – taxing times
Secondary KLA:
Mathematics
Educational levels:
Year 9, Year 10
191 Views | 83 Downloads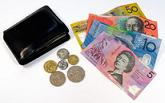 A laptop-friendly resource with a focus on student use of spreadsheets to calculate various income and taxation problems. A debate on the merits of income sources is included.
© State of New South Wales, Department of Education.
NSW syllabus outcomes
(MA5.1-4NA) solves financial problems involving earning, spending and investing money
Australian curriculum content descriptions
(ACMNA183) Carry out the four operations with rational numbers and integers, using efficient mental and written strategies and appropriate digital technologies
More information
Resource type:

Interactive Resource

ScOT topics:

Taxation, Personal finance

File type:

text/html

Language/s:

en-AU

Author:

State of NSW, Department of Education

Publisher:

State of NSW, Department of Education

Date created:

Friday, 19 October 2018
Resource ID: 9ffc197e-80b3-4590-b427-04d7fb4fe90b