SunSmart Millionaire
Primary KLA:
Science and Technology
Educational levels:
Year 5, Year 6, Year 7, Year 8
4437 Views | 2234 Downloads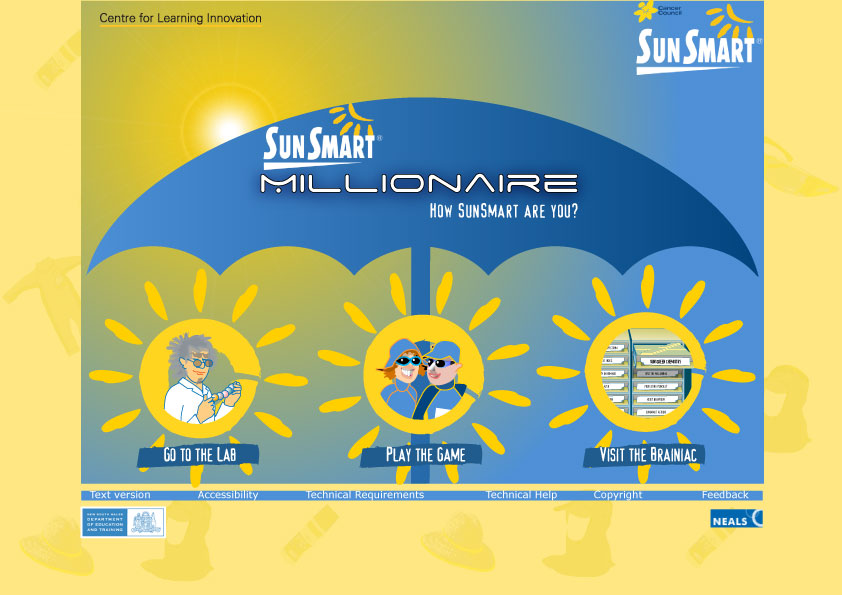 An interactive quiz game that engages students to learn about sun safety. Students can use this resource to also access information about the scientific method of investigation and information about electromagnetic radiation, skin and cancer. This resource also allows students to develop their information processing skills as there are experiments with ultra violet sensitive beads.
© State of New South Wales, Department of Education and Training, 2013.
NSW syllabus outcomes
(SC4-7WS) processes and analyses data from a first-hand investigation and secondary sources to identify trends, patterns and relationships, and draw conclusions
(SC4-14LW) relates the structure and function of living things to their classification, survival and reproduction
(SC4-15LW) explains how new biological evidence changes people's understanding of the world
(ST3-1WS-S) plans and conducts scientific investigations to answer testable questions, and collects and summarises data to communicate conclusions
Australian curriculum content descriptions
(ACSSU043) Living things have structural features and adaptations that help them to survive in their environment
(ACSIS090) Construct and use a range of representations, including tables and graphs, to represent and describe observations, patterns or relationships in data using digital technologies as appropriate
(ACSIS218) Compare data with predictions and use as evidence in developing explanations
(ACSSU094) The growth and survival of living things are affected by the physical conditions of their environment
(ACSIS107) Construct and use a range of representations, including tables and graphs, to represent and describe observations, patterns or relationships in data using digital technologies as appropriate
(ACSIS221) Compare data with predictions and use as evidence in developing explanations
(ACSHE224) People use understanding and skills from across the disciplines of science in their occupations
(ACSIS129) Construct and use a range of representations, including graphs, keys and models to represent and analyse patterns or relationships, including using digital technologies as appropriate
(ACSIS130) Summarise data, from students' own investigations and secondary sources, and use scientific understanding to identify relationships and draw conclusions
(ACSSU149) Cells are the basic units of living things and have specialised structures and functions
(ACSHE227) People use understanding and skills from across the disciplines of science in their occupations
(ACSIS144) Construct and use a range of representations, including graphs, keys and models to represent and analyse patterns or relationships, including using digital technologies as appropriate
(ACSIS145) Summarise data, from students' own investigations and secondary sources, and use scientific understanding to identify relationships and draw conclusions
More information
Resource type:

Interactive Resource

ScOT topics:

Sun protection, Skin cancer

File type:

text/html

Language/s:

en-AU

Author:

Centre for Learning Innovation

Publisher:

State of NSW, Department of Education

Date created:

Wednesday, 27 January 2010
Resource ID: a0d1bab8-c857-4bf6-9b95-640d3776b20d