Sites2See: What is climate change?
Educational levels:
Year 5, Year 6, Year 7, Year 8, Year 9, Year 10, Year 11, Year 12
1839 Views | 540 Downloads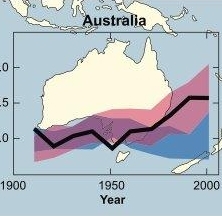 A page to address the question What is climate change? from the definition, to the Intergovernmental Panel on Climate Change (IPCC) as the foremost authority, and selected links covering aspects of that question with games, graphics, activities, information sites, resource packs and video interviews, for teachers and students. One set of resource links relates to Years 5 to 8 (Stages 3 and 4) and the other set to Year 9 and above.
© State of New South Wales, Department of Education and Training, 2013.
NSW syllabus outcomes
(SC4-7WS) processes and analyses data from a first-hand investigation and secondary sources to identify trends, patterns and relationships, and draw conclusions
(SC4-8WS) selects and uses appropriate strategies, understanding and skills to produce creative and plausible solutions to identified problems
(SC4-13ES) explains how advances in scientific understanding of processes that occur within and on the Earth, influence the choices people make about resource use and management
(SC4-15LW) explains how new biological evidence changes people's understanding of the world
(SC5-7WS) processes, analyses and evaluates data from first-hand investigations and secondary sources to develop evidence-based arguments and conclusions
(SC5-8WS) applies scientific understanding and critical thinking skills to suggest possible solutions to identified problems
(SC5-13ES) explains how scientific knowledge about global patterns of geological activity and interactions involving global systems can be used to inform decisions related to contemporary issues
(SC5-15LW) explains how biological understanding has advanced through scientific discoveries, technological developments and the needs of society
Australian curriculum content descriptions
(ACSHE083) Scientific understandings, discoveries and inventions are used to solve problems that directly affect peoples' lives
(ACSHE217) Scientific knowledge is used to inform personal and community decisions
(ACSSU094) The growth and survival of living things are affected by the physical conditions of their environment
(ACSSU096) Sudden geological changes or extreme weather conditions can affect Earth's surface
(ACSHE100) Scientific understandings, discoveries and inventions are used to solve problems that directly affect peoples' lives
(ACSHE220) Scientific knowledge is used to inform personal and community decisions
(ACSSU112) Interactions between organisms can be described in terms of food chains and food webs; human activity can affect these interactions
(ACSSU222) Water is an important resource that cycles through the environment
(ACSHE120) Science and technology contribute to finding solutions to a range of contemporary issues; these solutions may impact on other areas of society and involve ethical considerations
(ACSHE121) Science understanding influences the development of practices in areas of human activity such as industry, agriculture and marine and terrestrial resource management
(ACSSU176) Ecosystems consist of communities of interdependent organisms and abiotic components of the environment; matter and energy flow through these systems
(ACSHE161) Advances in science and emerging sciences and technologies can significantly affect people's lives, including generating new career opportunities
(ACSHE228) The values and needs of contemporary society can influence the focus of scientific research
(ACSSU189) Global systems, including the carbon cycle, rely on interactions involving the biosphere, lithosphere, hydrosphere and atmosphere
(ACSHE194) People can use scientific knowledge to evaluate whether they should accept claims, explanations or predictions
(ACSHE195) Advances in science and emerging sciences and technologies can significantly affect people's lives, including generating new career opportunities
More information
Resource type:

Interactive Resource

ScOT topics:

Global warming

File type:

text/html

Language/s:

en-AU

Author:

State of NSW, Department of Education

Publisher:

State of NSW, Department of Education

Date created:

Monday, 3 December 2012
Resource ID: aa8ae572-667d-4858-8605-5e26170c2279