Alison Lester – writing your own books
Primary KLAs:
Creative and Practical Arts, English
Educational levels:
Year 4, Year 5, Year 6, Year 7
1121 Views | 523 Downloads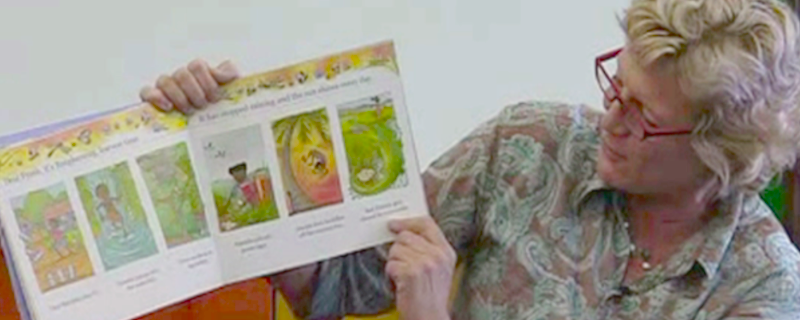 This twelve video resource contains video of author and illustrator Alison Lester guiding students to create, first a collaborative whole class book and second, an individual book using digital technologies. In each video Lester discusses aspects of her creative processes and the books she has written. Her books are aimed at Stage 1 students but this resource is designed to be used with Stage 3. Individual videos can be used to teach specific aspects of creative writing or illustrating. The activities associated with the videos focus on the NSW English syllabus outcomes with scope to cover NSW Creative Arts outcomes.
© State of New South Wales, Department of Education.
NSW syllabus outcomes
(EN3-5B) discusses how language is used to achieve a widening range of purposes for a widening range of audiences and contexts
(EN3-7C) thinks imaginatively, creatively, interpretively and critically about information and ideas and identifies connections between texts when responding to and composing texts
(EN3-8D) identifies and considers how different viewpoints of their world, including aspects of culture, are represented in texts
(EN3-1A) communicates effectively for a variety of audiences and purposes using increasingly challenging topics, ideas, issues and language forms and features
(EN3-2A) composes, edits and presents well-structured and coherent texts
(EN3-4A) draws on appropriate strategies to accurately spell familiar and unfamiliar words when composing texts
(EN3-6B) uses knowledge of sentence structure, grammar, punctuation and vocabulary to respond to and compose clear and cohesive texts in different media and technologies
(EN3-9E) recognises, reflects on and assesses their strengths as a learner
(EN3-3A) uses an integrated range of skills, strategies and knowledge to read, view and comprehend a wide range of texts in different media and technologies
Australian curriculum content descriptions
(ACELA1504) Understand how texts vary in purpose, structure and topic as well as the degree of formality
(ACELA1797) Investigate how the organisation of texts into chapters, headings, subheadings, home pages and sub pages for online texts and according to chronology or topic can be used to predict content and assist
(ACELA1511) Explain sequences of images in print texts and compare these to the ways hyperlinked digital texts are organised, explaining their effect on viewers' interpretations
(ACELT1609) Present a point of view about particular literary texts using appropriate metalanguage, and reflecting on the viewpoints of others
(ACELT1795) Use metalanguage to describe the effects of ideas, text structures and language features on particular audiences
(ACELT1610) Recognise that ideas in literary texts can be conveyed from different viewpoints, which can lead to different kinds of interpretations and responses
(ACELT1611) Understand, interpret and experiment with sound devices and imagery, including simile, metaphor and personification, in narratives, shape poetry, songs, anthems and odes
(ACELT1612) Create literary texts using realistic and fantasy settings and characters that draw on the worlds represented in texts students have experienced
(ACELY1701) Identify and explain characteristic text structures and language features used in imaginative, informative and persuasive texts to meet the purpose of the text
(ACELY1704) Plan, draft and publish imaginative, informative and persuasive print and multimodal texts, choosing text structures, language features, images and sound appropriate to purpose and audience
(ACELY1705) Reread and edit student's own and others' work using agreed criteria for text structures and language features
More information
Resource type:

Interactive Resource

Audience:

learner, teacher

ScOT topics:

Writing skills, Drafting, Illustrators, Picture books, Storytelling, Creativity, Viewing, Illustration, Writers, Children's literature

Activities:

Brainstorming, Communication activity, Practical activity, Problem solving, Project

Language/s:

en-AU

Author:

State of NSW, Department of Education

Publisher:

State of NSW, Department of Education

Date created:

Tuesday, 6 June 2017
Resource ID: ac13b7b2-2db9-4450-8672-181730911334