Sites2See – gold
Primary KLA:
Human Society and its Environment
Secondary KLA:
Human Society and its Environment
Educational levels:
Year 5, Year 6, Year 7, Year 8
3858 Views | 1445 Downloads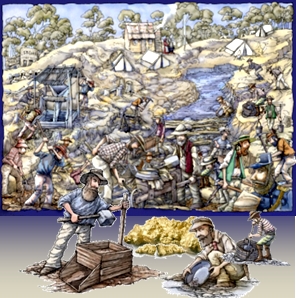 This resource is a page supporting the Stage 3 unit 'Gold!' with selected links to information, interactive games, challenges, videos, a podcast, related literature and activities for students and teachers, including the task-based resource Gold: Shaping our identity.
© State of New South Wales, Department of Education.
NSW syllabus outcomes
(HT3-1) describes and explains the significance of people, groups, places and events to the development of Australia
(HT3-2) describes and explains different experiences of people living in Australia over time
(HT3-5) applies a variety of skills of historical inquiry and communication
Australian curriculum content descriptions
(ACHHK095) The impact of a significant development or event on a colony; for example, frontier conflict, the gold rushes, the Eureka Stockade, internal exploration, the advent of rail, the expansion of farming, drought.
(ACHHK096) The reasons people migrated to Australia from Europe and Asia, and the experiences and contributions of a particular migrant group within a colony.
(ACHHK097) The role that a significant individual or group played in shaping a colony; for example, explorers, farmers, entrepreneurs, artists, writers, humanitarians, religious and political leaders, and Aboriginal and/or Torres Strait Islander peoples.
(ACHHS099) Use historical terms and concepts
More information
Resource type:

Interactive Resource

Audience:

learner, teacher

ScOT topics:

Gold, Australian history, Goldfields

File type:

text/html

Language/s:

en-AU

Author:

State of NSW, Department of Education

Publisher:

State of NSW, Department of Education

Date created:

Friday, 12 October 2018
Resource ID: afe39236-72e4-471b-ba83-6711c6cd87ca