Planning to teach geography K-10
Primary KLA:
Human Society and its Environment
Secondary KLA:
Human Society and its Environment
Educational levels:
Foundation, Year 1, Year 2, Year 3, Year 4, Year 5, Year 6, Year 7, Year 8, Year 9, Year 10
137 Views | 99 Downloads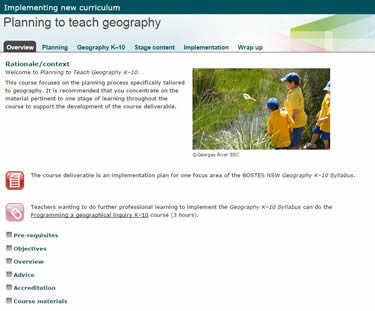 This course reviews the features of the Geography K-10 Syllabus. It supports the development of an implementation plan for the syllabus, starting with the curriculum document and focusing on the geographical inquiry process. Participants develop their understanding of the progression of learning K-10, including a detailed explanation of the content for their chosen stage. They are guided through a planning process specifically tailored to geography. Detail is provided to support the course deliverable, an implementation plan based on one syllabus focus area.
© State of New South Wales, Department of Education.
More information
Resource type:

Teacher guide

Audience:

teacher

ScOT topics:

Curriculum development, Curriculum objectives, Course content, Teaching process, Teaching methods

Language/s:

en-AU

Author:

State of NSW, Department of Education

Publisher:

State of NSW, Department of Education

Date created:

Monday, 22 August 2016
Resource ID: b44c4089-5a7e-4256-bc95-52fcac89cdbd