Science Talk 2007: Richard Wiseman
Educational levels:
Year 7, Year 8, Year 9, Year 10, Year 11, Year 12
26 Views | 19 Downloads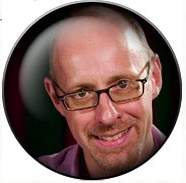 An interview with Professor Richard Wiseman, magician and psychologist at the University of Hertfordshire in the UK. Richard talks to a teacher from Strathfield Girls High School about the connection between psychology and magic, and his work as a psychologist investigating quirkology, the science of everyday life.
© State of New South Wales, Department of Education and Training, 2013.
NSW syllabus outcomes
(SC5-15LW) explains how biological understanding has advanced through scientific discoveries, technological developments and the needs of society
Australian curriculum content descriptions
(ACSHE160) People can use scientific knowledge to evaluate whether they should accept claims, explanations or predictions
(ACSHE161) Advances in science and emerging sciences and technologies can significantly affect people's lives, including generating new career opportunities
(ACSHE194) People can use scientific knowledge to evaluate whether they should accept claims, explanations or predictions
(ACSHE195) Advances in science and emerging sciences and technologies can significantly affect people's lives, including generating new career opportunities
More information
Resource type:

Interactive Resource

ScOT topics:

Scientists, Psychology

File type:

text/html

Language/s:

en-AU

Author:

Centre for Learning Innovation

Publisher:

State of NSW, Department of Education

Date created:

Monday, 20 October 2008
Resource ID: ba7fdf9b-e66a-42f0-89cb-c7ded08c253a