Science Talk 2007: Glenn Porter
Educational levels:
Year 7, Year 8, Year 9, Year 10, Year 11, Year 12
64 Views | 25 Downloads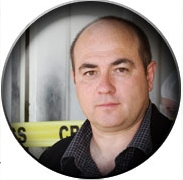 A master class and tour of the University of Western Sydney (UWS) Crime Scene House with Glenn Porter, a forensic scientist. Students talk to Glenn and PhD students to see what all the fuss is about with forensic science.
© State of New South Wales, Department of Education and Training, 2013.
NSW syllabus outcomes
(SC4-4WS) identifies questions and problems that can be tested or researched and makes predictions based on scientific knowledge
(SC5-4WS) develops questions or hypotheses to be investigated scientifically
Australian curriculum content descriptions
(ACSHE223) Science knowledge can develop through collaboration and connecting ideas across the disciplines of science
(ACSHE120) Science and technology contribute to finding solutions to a range of contemporary issues; these solutions may impact on other areas of society and involve ethical considerations
(ACSHE224) People use understanding and skills from across the disciplines of science in their occupations
(ACSHE226) Science knowledge can develop through collaboration and connecting ideas across the disciplines of science
(ACSHE135) Science and technology contribute to finding solutions to a range of contemporary issues; these solutions may impact on other areas of society and involve ethical considerations
(ACSHE227) People use understanding and skills from across the disciplines of science in their occupations
(ACSHE160) People can use scientific knowledge to evaluate whether they should accept claims, explanations or predictions
(ACSHE161) Advances in science and emerging sciences and technologies can significantly affect people's lives, including generating new career opportunities
(ACSHE194) People can use scientific knowledge to evaluate whether they should accept claims, explanations or predictions
(ACSHE195) Advances in science and emerging sciences and technologies can significantly affect people's lives, including generating new career opportunities
More information
Resource type:

Interactive Resource

ScOT topics:

Data collection, Forensic science, Law enforcement

File type:

text/html

Language/s:

en-AU

Author:

Centre for Learning Innovation

Publisher:

State of NSW, Department of Education

Date created:

Monday, 20 October 2008
Resource ID: c347ec6a-e2a3-4132-b1fc-23af0cac9d26