Invictus Games Sydney 2018 – PDHPE – Stage 4
Secondary KLAs:
Personal Development, Health and Physical Education
Educational levels:
Year 7, Year 8
940 Views | 469 Downloads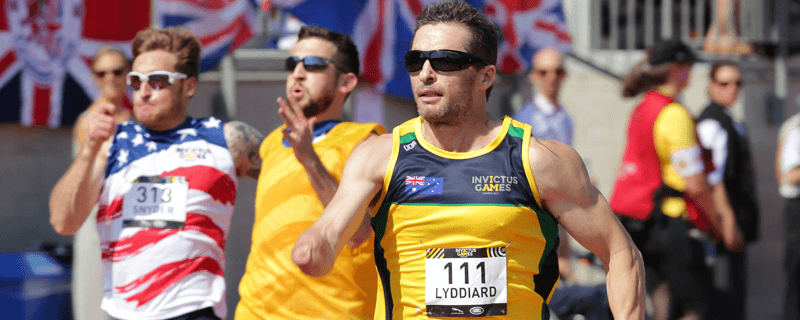 This module, Sports science and biomechanics in elite and adaptive sports, introduces students to the concept of 'marginal gains'. At the elite level, athletes and competitors seek to make targeted changes to their performance in order to achieve minor improvements. These marginal gains can be the difference needed to beat a personal best or break a world record. Students will explore how science and technology can assist elite competitors in their pursuit of marginal gains. Then, students will engage in a process of recording and analysing their performance over a 10m sprint and will evaluate and improve their sprinting technique using a combination of slow-motion video, targeted sprinting models and data recording in a spreadsheet. This resource is also downloadable as a SCORM file: the downloaded version will only work if you upload it to a webserver, such as Moodle or Canvas. Updated July 2023.
© State of New South Wales, Department of Education.
Australian curriculum content descriptions
(ACPMP080) Use feedback to improve body control and coordination when performing specialised movement skills in a variety of situations
(ACPMP082) Practise, apply and transfer movement concepts and strategies with and without equipment
(ACPMP087) Evaluate and justify reasons for decisions and choices of action when solving movement challenges
More information
Resource type:

Interactive Resource

Audience:

learner, teacher

ScOT topics:

Human movement, Sports, Physical fitness, War veterans

Activities:

Analysis, Data manipulation and interpretation, Games, Modelling, Practical activity

Language/s:

en-AU

Author:

State of NSW, Department of Education

Publisher:

State of NSW, Department of Education

Date created:

Friday, 31 August 2018
Resource ID: ed46d48b-6dba-472b-8a28-938ea3b802d8